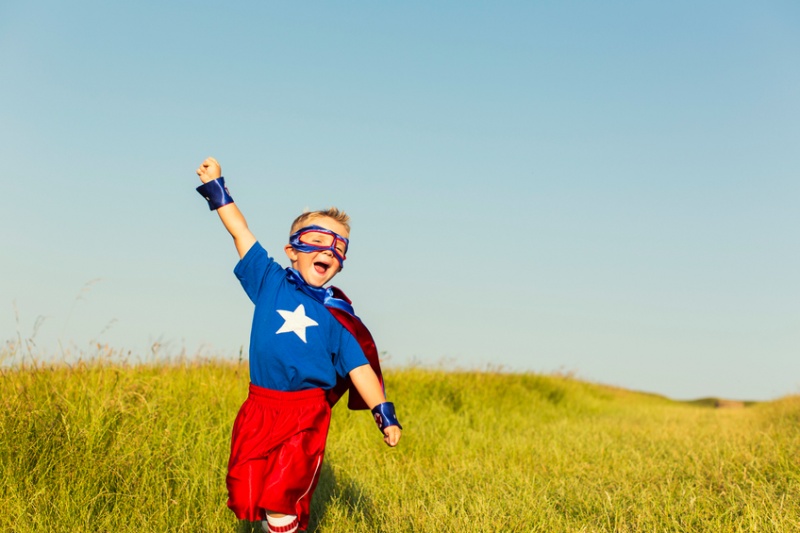 This Halloween, expect to see a bevvy of pint-sized superheroes littering your 'hood. The beloved princess costume has been de-crowned after an 11-year reign, according to NRF's 2016 Halloween Consumer Top Costumes Survey conducted by Prosper Insights & Analytics. But perhaps the spookiest finding of all from this survey is that spending on Halloween costumes is expected to reach $3.1 billion.
Findings show that over three million children will dress as their favorite action or superhero, 2.9 million will dress as their favorite princess and 2.5 million plan to dress as a cat, dog, bunny or other animal.
Top Kid's Costumes
Action/Superhero
Princess
Animal (Cat, Dog, Lion, Monkey, etc.)
Batman Character
Star Wars Character
Tie: Witch AND DC Superhero (excl. Batman)
Frozen Character (Anna, Elsa, Olaf)
Marvel Superhero (excl. Spiderman)
Zombie
Spiderman
So what will millennials rock on All Hallow's Eve? Nine percent will reach for a Batman costume, followed by 6.1 percent opting for witch hats and brooms and five percent planning to dress as an animal.
Adults, 18 -34-Years-Old
1. Batman Character (Batman, Harley Quinn, The Joker, etc.)
2. Witch
3. Animal (Cat, Dog, Bunny, etc.)
4. Tie: Marvel Superhero (Deadpool, Spiderman, etc.) AND DC Superhero (Wonder Woman, Superman, excl. Batman)
5. Vampire
6. Video Game Character
7. Slasher Movie Villain (Freddy, Jason, Michael Myers, etc.)
8. Pirate
9. Star Wars Character
10. Zombie
For the mid-range adults, more will turn to witches, pirates and political figures for their costume inspiration.
Adults 35+
1. Witch
2. Pirate
3. Political (Trump, Clinton, etc.)
4. Vampire
5. Batman Character (Batman, Catwoman, etc.)
6. Animal (Cat, Dog, Bunny, etc.)
7. Tie: DC Superhero (Superman, Wonder Woman, excl. Batman) and Star Wars Character
8. Tie: Ghost and Zombie
9. Scary Costume/Mask
10. Marvel Superhero (Iron Man, Hulk, Spiderman, etc.)
And what would a holiday be without dressed up pets? Sixteen percent of consumers plan to dress their pets in costume this year and 86.7 percent of those consumers already have a plan for their pet's costumes. Pumpkin, hot dog and bumble bee are at the top of the list again this year.
Furry friends
1. Pumpkin
2. Hot Dog
3. Bumble Bee
4. Tie: Lion and Star Wars Character
5. Devil
6. Batman Character
7. Witch
8. Superman
9. Action/Superhero
10. Cat
Sources: www.ProsperDiscovery.com, www.nrf.com
Published with permission from RISMedia.