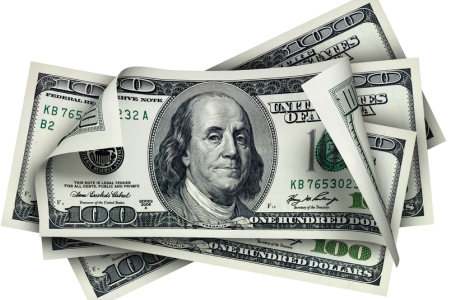 Maybe you got a tax refund. Maybe a friend paid back an old debt. Maybe you got from one paycheck to the next and—amazingly—had $100 left over. You may be tempted to blow your windfall, but $100 doesn't buy all that much these days. Far better, according to The Motley Fool, is to use that $100 in one of these 5 wise ways:
1. Start/Add to an Emergency Fund
– Surveys reveal a shocking number of Americans do not have enough money set aside to cover a $1,000 emergency. Ideally, an emergency fund should hold three to six months of living expenses.
2. Start/Add to a Retirement Fund
– It may not seem like much, but if you were to put that $100 in a 401(k) or IRA and choose investments that generate an average annual 8-percent return, after 40 years, it would amount to almost $2,200!
3. Pay Down a Credit Card
– Carrying a credit card balance, no matter how small, means losing money every month to interest. Granted, that $100 on its own probably won't save you a lot in interest, but it will get you one step closer to becoming debt-free.
4. Buy Stock
– A single Ben Franklin won't make you a fortune in the stock market, but you can use it to open a low-cost, no- or low-minimum brokerage account and start investing for your future.
5. Invest in Yourself
– If a certification or skill is standing in the way of a higher salary, use that $100 to pay for a course or license that helps you command more money—if a $100 online web design course results in a $1,000 bump in salary, that's a 900-percent return on investment!
Published with permission from RISMedia.