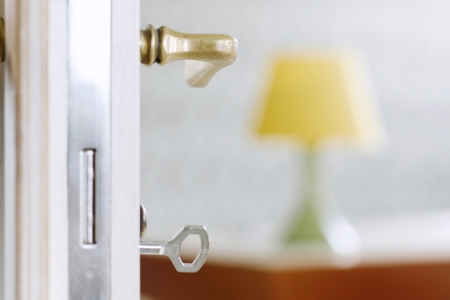 As a household, transitioning from a summer of spontaneity to a fall full of activities can move safety by the wayside. Still, it's vital to carve out time in your schedule to prioritize it, says Rebecca Smith, vice president of Marketing for Master Lock.
"During the fall, many families' schedules are busier than ever, but it's still important for parents to make safety and security a priority," says Smith. "Now that school year routines are established, it's a perfect time to address safety topics with your children, such as guidelines for staying safe at home and on the go."
Smith and Master Lock recommend the following tips for parents:
Teach your children to note their surroundings.
As dusk and darkness creep up earlier each day, remind your children to follow safety precautions, whether walking home or just to a parked car. Instruct them to stick with a friend or in a group, if possible, and to stay in well-lit areas, avoid short cuts and observe traffic rules.
Review bike safety.
If your children will be riding their bikes to school or extracurricular activities, review the rules of the road with them—following traffic signals, riding with traffic, stopping at stop signs, etc. Make certain, also, that they're outfitted with bright-colored clothing and a helmet.
Establish a "home alone" routine.
Set guidelines for older children who may be home without supervision, either after school or during activities on weekends. These may include calling to check in, locking the door immediately after entering the house (and not answering the door for strangers) and reviewing emergency phone numbers.
Observe fire safety.
Establish a household fire evacuation plan, which involves visiting each room in the home to designate two exits (in each) and ensure they open. Determine a safe meeting place outside of the home, as well, and practice the evacuation periodically.
Putting these tips into practice will set safe habits for your children, now and beyond the season. For safety and security products for your home, visit MasterLock.com.
Source: Master Lock
Published with permission from RISMedia.