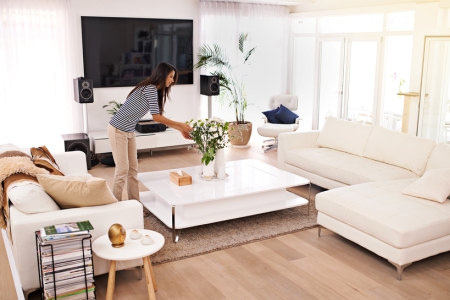 Hosting family or friends for a few days? Make them feel welcome and comfortable with these nine tips:
Add fresh flowers and other thoughtful touches.
A small bunch of flowers in a vase on the nightstand goes a long way to make guests feel welcome. Add a magazine or two and a carafe of water with a glass for an extra touch.
Ask ahead about allergies or diet restrictions.
An email or phone call a few days before the visit will help prepare you to meet guests' food preferences and other needs.
Consider a luggage rack.
Having a rack handy in the guest room will help your guests stay neat and organized. (Some are available online for as little as $15!)
Include guests in chores.
Most guests will ask how they can help—and they mean it! Enlisting them to chop veggies and set the table (or help clear it) will make them feel more at home.
Keep snacks out in the kitchen.
Guests may feel awkward snooping about your kitchen for a snack. Keep a basket of power bars, fresh fruit, small packets of nuts, dried fruit or cookies on the kitchen counter.
Prepare a basket of toiletries.
Outfit the bathroom with travel-size tubes of body lotion, shampoo, toothpaste, etc., and even an extra comb or toothbrush. Guests may not need them, but your effort will not go unnoticed.
Take a tip from hotel managers.
Give your guests a key and a cheat sheet—a key enables them to come and go as they please, and a cheat sheet will clue them in to information such as alarm codes, emergency contact numbers, information about your pets and your home's Wi-Fi password.
Think like a hotel housekeeper.
Leave an extra pillow or two and an extra blanket in the guest room—and be sure a supply of towels is within easy reach, as well.
Work out a bathroom routine.
If bathroom space is limited, work out a morning or evening routine to make everyone feel comfortable.
Published with permission from RISMedia.